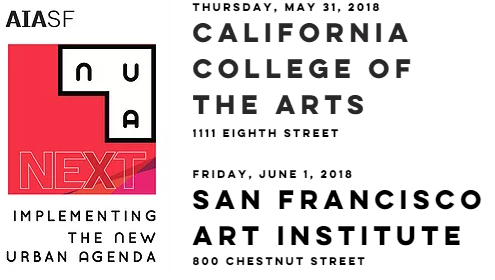 Join AIASF NEXT conference (IMPLEMENTING THE NEW URBAN AGENDA) on May 31 + June 1, 2018 for two days of educational sessions on Business, Design & Technology, as well as incomparable networking opportunity.
How can architects and AEC industry members leverage the global United Nation's New Urban Agenda for success and relevance at a local level? The 3rd Annual AIASF Next Conference will focus on how the Bay Area can take a proactive stance to achieve sustainable and equitable growth.
Thursday, May 31st's Deep Dive will examine Housing. Presenters will examine the housing crisis as it relates to three basic principles: public needs and desires, policy rules and incentives, and professional responses to these forces.
Friday, June 1, will feature programs in three tracks: Design, Business and Technology. Presentations will focus on how the Bay Area can advance the standards and principles for the planning, construction, development, management, and improvement of urban areas.
AIASF has gathered AEC industry's best and brightest to have a forum for this vital conversation. We invite all members of the AEC industry to join us for this event.
Early bird registration now open through May 16! For more information visit: www.aiasfnext.org